I'm a lucky gal.  I live and work in Southeast Alaska.  Millions of people save for a lifetime in order to get to visit here, and I get out and see it all the time.  I have found a way to mix business and pleasure unlike anything I could have ever dreamed of.
My slogan is "I Sell Alaska".  This is what I do.  I could probably make lots more money if I never left Juneau, but people in small communities deserve professional representation too!
Friday I had the pleasure of making a quick business trip to Haines .  This small town is only 60 miles north of Juneau, but there is no road between the communities.
I was lucky that the new fast ferry M/V Fairweather was operating that day.  The trip was going to be a quick 2.5 hours instead of 6 – 8.  After checking in, walking onto the boat and getting settled, I snuggled in with a new seed catalogue (I am a master gardener, and a dreamer!).  Turns out I only knew about a half dozen people on this sailing so I was able to have some time to myself.  As an involved mother of two teenagers, and a busy Realtor, I value my quiet time.
The seas were calm and there was only a gentle breeze.  I would have been just as comfortable in our 34′ boat as I was on this 235-foot catamaran.  The M/V Fairweather holds up to 259 passengers and 35 vehicles and can cruise at 32 knots.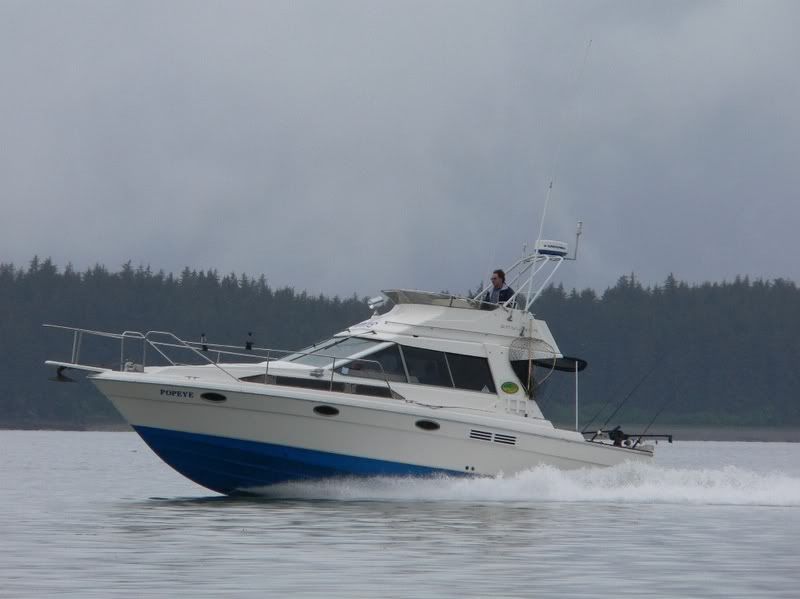 <–Our Boat  M/V Fairweather –>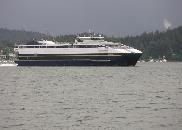 Boats tend to put me to sleep, but only 30 minutes into the voyage, the sun came out. Living in the rainforest of Southeast Alaska teaches a person to be thankful for the sun when it does make an appearance.    I quickly traded my garden book for my camera, and stepped onto the deck and let my pale winter skin soak up the sun.  It's been an especially long winter, with more snow than we've seen in almost 40 years.
Fairly close to where this picture was taken, my boys and I were on a kayak trip a few years back.  Imagine our surprise when humpback whales started bubble-feeding right near us!  It was quite the excitement.
Within moments, I was reminded of my father.  One of his favorite sayings was, "If you don't like the weather, wait 15 minutes and it will change.  If you do like the weather, it most likely will change anyway".  I think weather sneaks up on us because we are surrounded by towering mountains that seem to spring out of the ocean – we just don't see it coming!
Remember, it is winter.  It was only about 25 degrees.  But oh, so beautiful.  Reluctantly, I went back inside.
The trip back was pleasant, but the weather was poor.  I was happy to be on the ship instead of on a small plane, in fact it is likely I would have been in Haines until Sunday.  The crew was cheerful, as always.  The M/V Fairweather has the happiest crew on the Alaska Marine Highway System.  That could be because they get to go home every night, but I just like to think they are just nicer people.
For decades, there has been talk of building a road from Juneau to Haines or to Skagway.
Supporters of the road feel that this hard link would help secure the capital in Juneau.  (There has been a battle to move the capital since the early 70's)  It would also expand recreational opportunities for those people stranded in Juneau.
Those against the road argue for environmental consciousness, fiscal responsibility and avalanche dangers.
In addition, the small town of Haines worries that it's tax base would not support the additional law enforcement necessary to deal with a more transient population.
This isn't the best photo ever taken of the Eldred Rock Lighthouse, but the eerie vision through the clouds really called to me.  This is the oldest original lighthouse building in Alaska.  This octagon structure was originally built in 1905.  During the gold rush, there were several shipwrecks in the area.  The worst was the sinking of the Clara Nevada.  Over 100 people were lost, as well as an illegal shipment of dynamite and $100,000 in gold dust.  100k at 1898 prices!
Since 1973 the lighthouse has been operated remotely, and there is currently an effort underway to restore this historical landmark. It must have been lonely on the rock.
I am going home and sleeping in my own bed tonight.  No unexpected delays. That makes a good day.